Costa Crociere: on board restaurants occupancy
Customer
Costa Crociere S.p.A, is a leading company in its market sector, 1st in the European cruise industry and 3rd worldwide; it has always focused on innovation and digital transformation with the aim of improving and broadening the experience offered to its Clients, satisfying guest's every wish and thus standing out above the competition.
Goal
Improve the on-board catering offered to its Clients, allowing guests to check on restaurant occupancy and availability in real time, by using an App and digital information screens.
Solution
Monitoring of all restaurant access points and creation of an ad hoc solution for the distribution of real- time information on the ship.
Benefits
Better management of restaurant areas
Diminishment of occupation time in the restaurants
Improved Client's meal experience
Less crowding in the area
Optimization of the restaurant's service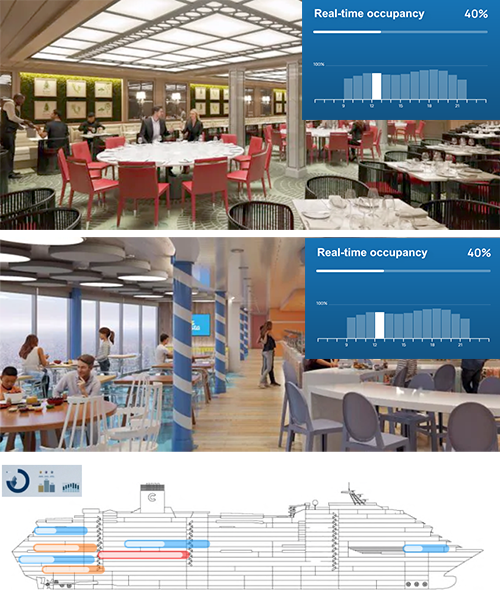 Business opportunities
New technologies and digital communication, used for the restaurants on board, contribute to improving the service offered therefore increasing Client satisfaction, whilst simultaneously allowing to check on the flow of people on board thus optimizing resources and area management on the ship.
In addition, this solution enables Costa Crociere to analyze historical restaurant access data so as to identify trends and KPI.
Details
Cruise ship: Costa Smeralda, the largest in the fleet
Numbers: 16 Decks, up to 6554 passengers
Focus: 11 restaurants on board, 22 points of access monitored
Project delivery: November 2019
Technology: Dense Solution, 3D people counter sensors, central hub AI, Web API, Real-time dashboards and KPIs, integration with Costa App